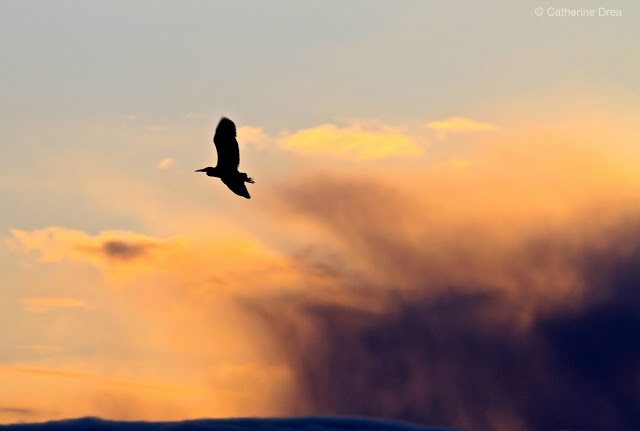 At first light, let the sounds and colours of the morning enter you. Rise when the animals take breakfast. Over coffee keep a steady hand on a long lens, chaffinches might be dropping by. Or go out into the frosty dawn, well wrapped up and remember your key this time!
At the peak of the day open the kitchen door and watch gulls rinsing their salty feathers in the pure lake waters. After a rain shower study bulging drops on twigs. Smell the sweet damp soil. Listen to the hail, how it hops off the gravel path. Wash the mud off your hands if you can't resist handling those wet stones.
Towards evening time let the fading light distract you from work, cooking or company and draw you yet again to the window or the roof top. During the darkest night sense the moon or the constellations. Is it going to be frosty or warm tomorrow? Keep some shoes close to the bed for emergency exits.
In winter follow the sun as it sets over the forest. In summer watch it move into the true west and sink behind the mountains. Track it, while monitoring the movements of the earth. Ponder her speed, flying through the universe.
Know the way light streams into the house at angles. Sit with the cat snoozing in each ray, following her from lap to sill. When the light catches a glass or the shadow of a chair falls on the rug, pay attention. Get close.
If there's a lemon in a bowl or a blue teapot, put it with a pink geranium on a green table cloth and snap it then and there. Cake is good but colour is even better and will sweeten your soul.
Most of all listen to the land. How it swells and ebbs throughout the days. How it warms and cools or sometimes rumbles in the night. How it questions you while holding everything still.
Photograph where you live and what you see. Your own trip, every day, every year, throughout your life. Be there with that camera in your hands.
Because this is the beginning of what I am learning about how to be a photographer and every other thing in life…….