Since the publication of Solace last year, it has been an amazing experience to have such a personal book out in the world. Over the last few months it has been heartening to get feedback, support and to connect with readers all around the world. Thank you all so much! Here is a selection of thoughtful messages and posts from some of you. Go raibh mile maith agaibh! Or thanks a million!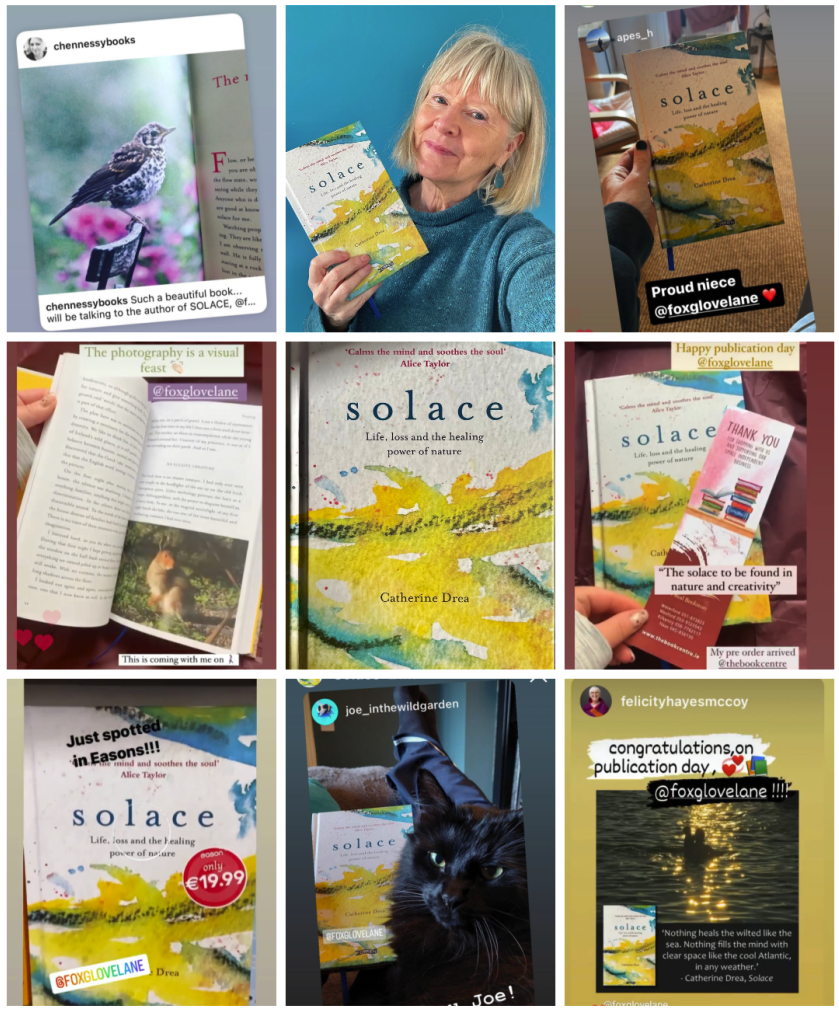 Dear Catherine, I just want to thank you for your beautiful and intimate book. I knew it would be good, having followed your blog and knowing about your talent as a photographer, writer, and activist. What was unexpected was how you wove your personal story and the Covid story so well through your seasonal wanders. I felt a kinship being of the same age, having Irish ancestors, and the loss of a mother at a young age (not as young as you). I am sending your book to a friend who I know will love it and have recommended it to others. Congratulations and thanks again. KMO (Instagram) 
Hi Catherine, Just to say how much I enjoyed Solace. The writing is beautiful, so quiet and assured. And the blend of text and image is perfect. The swans coming after 'Heaven' on p103 are uncannily apt. They've done you proud with the production too. And I loved the poems. It's a generous, heartening gift to us all. Thank you. MR
…just finished it…Connected with it on several levels. The fact that I have overlapped near 60 of your near 70 years means we have much of the same backdrop to our lives. I connected with the environmental / nature aspect of the book. I think my favourite bits were the hard earned bits of your truth / wisdom gained from your life experience. Those bits jumped out and resonated with me. B
Such a beautiful book. Brought me joy, comfort and pure pleasure.  Thank you so much Foxglove Lane 🤗 Congratulations!! 😊 PE (FB)
Hi Catherine, I have just finished Solace and I loved it. It is really soothing on the mind and good for the soul. I had tears in my eyes when you spoke about your Mother, who died very young, as my own Mother died just last year.  We were lucky to get 95+ years with her.  Many thanks again for a lovely treat.  I have now passed it on to my wife for her to enjoy, Kind regards, MD (FB)
Dear Catherine. I really enjoyed your book Solace. Absolutely heartwarming and uplifting. I was very moved, as I lost my Mum, when I was 14 years old, the eldest of 5 children. I could relate to many of your childhood experiences. You articulate them so well. I have purchased a few copies of the book 📙, to give as Christmas gifts. Take care. Kindest to you, your Right Hand man and all the family 👪. AJ (Facebook)
Hello Catherine – this is the most beautiful book KG Australia (FB)
All good here. Got your book for my wife, enjoying it. 👍🙂 Live long and prosper 🖖 DS (FB)
I got your book at the weekend and it is even more beautiful than I was expecting. I'm going to savour it slowly. NH (FB)
Hi Catherine, longtime follower here! Congrats on the success of your book. I'm in the US and I'd like to send a gift-wrapped copy to my sister in Dublin for Christmas. Do you happen to know of any retailers who will do that? Having trouble finding one. Thanks! E (Instagram)
Such wonderful writing Catherine. I read the whole book over a couple of days, now I'm going back to savour the most beautiful passages. I was especially thrilled to be remembered as Shawn Keogh, and loved your account of our adventure trip to the Aran Islands! I can still see so vividly the last words of the play, your voice cracking with emotion "Oh my grief, I've lost him surely – I've lost the only playboy of the Western world". You stunned us all with your powerful performance. BM (Friend)
I bought Catherine Drea's book on Sat in Dublin, you can tell her it was displayed in a very prominent place in Hodges & Figgis 😊
I had to start from the winter section, missing the first parts of your story but enjoying it and grateful for the company i received through your words.. thank you 🙏💗 Of course I will go back to the start after the winter 🥰 YF Instagram
Loved everything about your book and it has indeed helped me to focus a little more on the nature that surrounds us JH
Loving your book Catherine and I bought a signed copy for a very dear friend:) AB FB
I am snuggled up in bed with #Solace #Catherine Drea ….trying to make it last! Just loving it!   MB FB
Today – I took to my winter bed as the south westerly wind and rain swept in. I gorged on 'Solace' in one sitting. What a truly beautiful read. Thank you Catherine xx (CB FB)
Hi Catherine, so delighted today to receive a copy of your book 'Solace' as a gift to B from a dear friend. I am looking forward to reading passages to her as I sit by her bedside. S
I'm fifty pages into 'Solace' and I am hooked. I love the language and spirituality of it. Your home reminds me very much of my own rural experience of fifty years ago. I lived for a while in a deserted railway station on a line long closed. It was in the middle of a field about a hundred yards from the river Exe in the heart of the Devon countryside.I'll talk to you of it one day. And, when the dust has settled on this sorrow filled moment in my life, I shall seek that simplicity again. S
Happy New Year, Catherine! I'm ringing in the new year by reading Solace. DH (FB)
Hi Ca…..just thought l would say that l took your book to Norfolk with me and just finished it on the plane back. What a treasure it was to read about your journey and such a courageous, touching and spiritual journey it was. I loved reading the memories if your dad and Addie, your dear mum and thinking dad's determination to keep you all close even if he didn't have a clue about how to about how hard it must have been for her to leave you all……not to mention your do it. I also loved the connections you made with your inner child and the old wise mischievous woman (sorry can't spell it in Irish) and all the connections with mother earth that have brought you such solace. I did know all these things about you but its lovely to hear it explained by you.
Just wanted to say how much I appreciated the work and dedication that went into sharing your heart and soul with the world. GC Friend
 Hi Catherine, Congratulations on your wonderful book. I so enjoyed reading it and loved the photography too. My Mum is now halfway through it and similarly engrossed.A Instagram
Dear Catherine, PC gave me a gift of your book for Christmas. I just finished it last night, what a beautiful read, I absolutely loved it. Ballyscanlon is my go to place for walks and contemplation. The flow of your writing is lovely. I read it in two sittings. Wishing you great success with your book, I look forward to your next one. M. 
So lovely Catherine n yes your book really touched my heart n reflected my  experience of childhood loss of my father n how silent that loss was for me as a 10year old. I too feel the pain of our earth mother's suffering as a result of our actions but hopefully we are awakening n can halt the destruction n return to respect n harmony with nature n all its inhabitants. B Facebook
Reading Catherine's book (@foxglovelane) is like spending time with an old friend. I've had both laughs and tears as I read her slices of life. MK Instagram
Good morning Catherine, congratulations on your wonderful book. I've just finished it and I was reluctant to do so because it was such a beautiful and peaceful read. Hope you might be considering writing another one. 👏🤞👏🤞👏🤞👏 MF Instagram
Hi Catherine, a little note to say I read your beautiful book. It is heartfelt and real. Congratulations. Wonderful work. CY Facebook
I bought your book in the Coastguard Station Cafe in Tramore on Wednesday……it was the last copy there , it is beautiful, just what I needed ….M.
Now have a look inside!