I am thrilled to announce that my new book SOLACE has been published by the O'Brien Press with a launch in the Book Centre, Waterford. It is now available in bookshops and online booksellers.
'Solace is that feeling of calm and comfort,
that sense of peace that is all around us
when we are open to finding it.'
'Writer and photographer Catherine Drea explores the solace to be found in nature and creativity. She reflects on loss, the cycle of life and the healing power of family and community. She muses on the joy of finding a place to call home, the escape that travel brings and the exhilaration of plunging into our waters – all the while embracing the therapeutic power of observing the ordinary and the everyday. With the passing seasons, her camera captures fleeting moments in nature – the light and lie of the land, with its precious wildlife: sentinel robins, elusive Irish hares and serene swans.
'Solace is quite simply a balm for the soul.'

'In this beautiful book, Catherine Drea explores deeply emotive issues, calms the mind, soothes the soul, and focuses her sensitive lens on the wonders of the natural world.'

Alice Taylor, author of
To School through the Fields
Read about the inspiration and the process of making the book here on the Irish Times website in this book review from Carina McNally in the Irish Examiner or in the Beginner's Pluck column by Sue Leonard.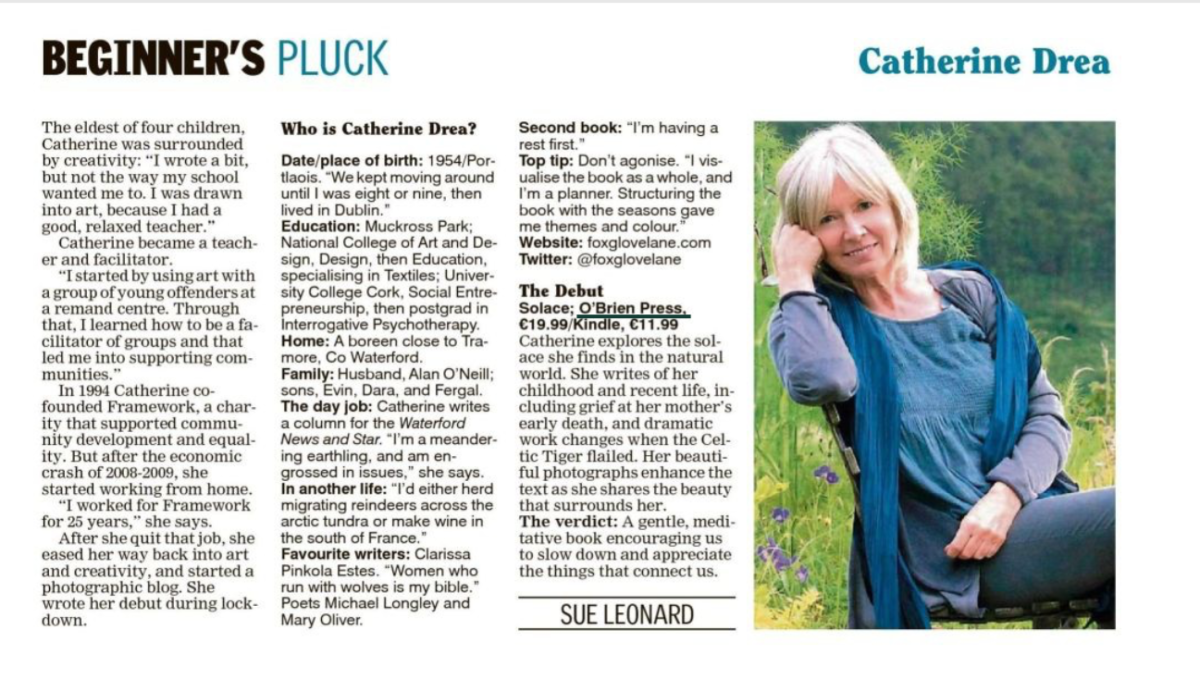 Some images from from the launch in the Book Centre Waterford in September. Kunak McGann from The O'Brien Press spoke warmly and the book was launched brilliantly by Mary Frances Ryan, Editor of the Waterford news and Star.