The Women's Creative Cafe on the theme of Mother Nature will take place in the Copper Coast Cafe in Bonmahon on 20th September 2023 7-9 PM. It will be part of the Talamh land art festival. Previous cafes included a Rural themed event and a Well Being themed event.
Hosted by the Women's Creative Arts Circle, the Women's Creative Cafe will be an evening of inspiration, connection and new beginnings. Join with a panel of women speakers and performers from different arts backgrounds including writers, visual artists, musicians, sand artists, photographers, to celebrate the creative powers of women!
Share in personal stories, how we can overcome balancing our many roles in life, where we can find inspiration, how we can interact with each other and with Mother Nature. In a lively cafe atmosphere creative women will meet, have some relaxed chat, friendship and a glass of wine.
ALL ARE WELCOME!
It's a FREE event but best to book here to reserve your spot!
Our MC for the evening will be Dymphna Nugent of WLRFM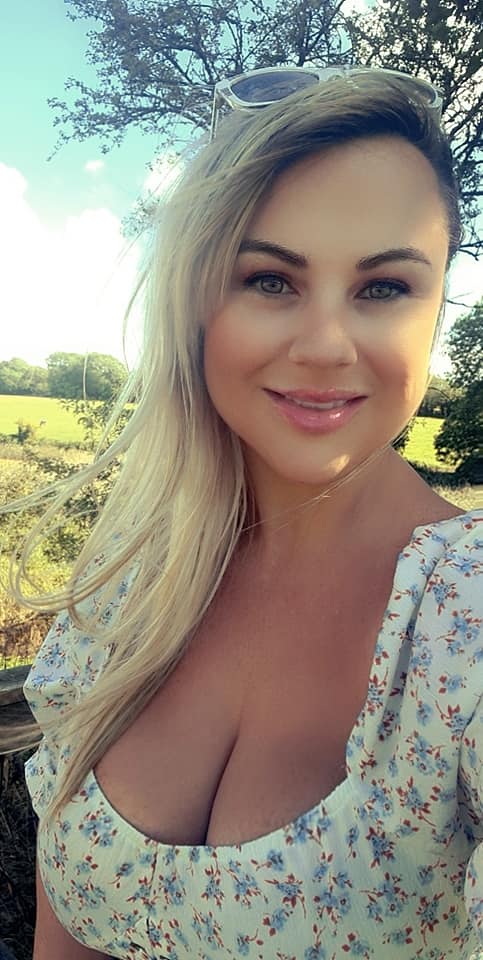 SPEAKERS/PERFORMERS AT THE CAFE WILL INCLUDE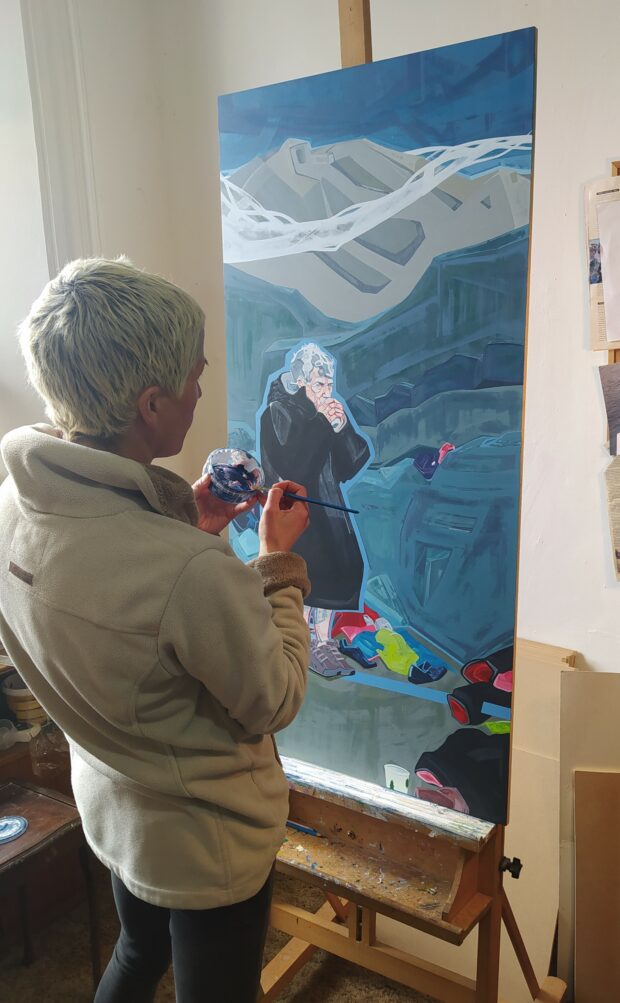 Síle Walsh, Visual Artist
"Art has always been a part of my identity and when I returned to practice after a six year hiatus, while my children were very young, I found the missing piece of my identity was put back in place."
I paint everyday and every piece is a puzzle to be solved and another step forwards in trying to find my voice.  I want to shout about the energy and power that comes from sharing the ocean. When I lived and worked in the West of Ireland and swam with wild dolphins and seals they were my muses. Now, back in my home place, it is the friends and community I swim and surf with.
The majority of my work is figurative and based around family and the local community that gravitate towards the ocean. As an avid swimmer and surfer I am trying to capture the emotion or shared experience behind these activities rather than the physical action.
I never look for an image to paint. I am compelled to paint a moment, an emotion,  a connection. I  consistently take random photographs, when I am out surfing, swimming or with my family, with no preconceived composition or concept but which I may use later as tools to bring a concept together. Using that compulsion and these loose images I begin the process with preliminary sketches to build a composition. I love the concept of making the viewer look and look again.
 I am in a constant practice to develop my skill level and expand my approach on how to deliver my vision through painting and the visual arts"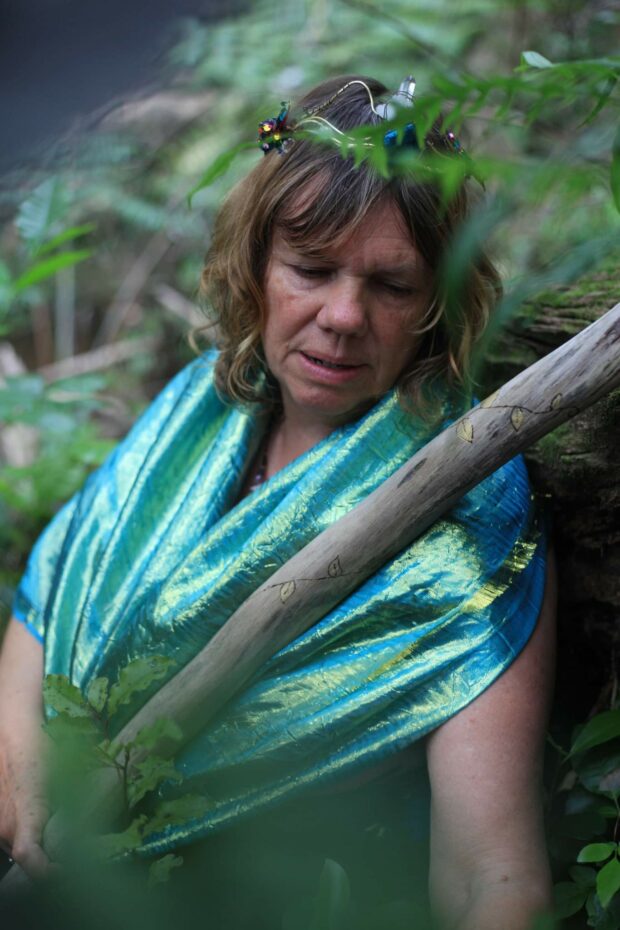 Lesley Dixon, visionary, sand artist, published author
My topic for the Creative Cafe will be Cultivating a sense of wonder…..
I am Lesley Dixon, a visionary, sand artist, published author, teacher aide and Mother of 3 children and 2 grandchildren. I am so thrilled to have this opportunity to share my art practice and my connection with Mother Earth and the sacred. 
Play is such an important part of my life and everyday I get paid to play!!!.  I cant wait to share with you all the ways that magically presents itself in my day.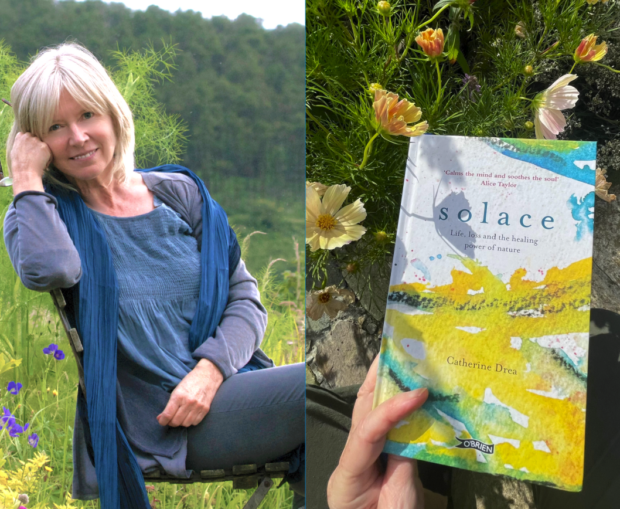 Catherine Drea, photographer, columnist, writer
Catherine Drea is a visual artist, writer and published author who lives and works in rural County Waterford. Catherine writes a column called As I see it, for the Waterford News and Star and blogs on www.foxglovelane.com  Along with three friends she is a founder of the Creative Cafes and this is the first time she has been a participant and not a facilitator! Catherine published her first book Solace-life, loss and the healing power of nature last year.
"I'm so looking forward to another Creative Cafe, sharing my thoughts about creative collaboration, how it's never too late to write and the joy of immersing yourself in the natural world. I have always believed that creativity can be an integral part of everyday life rather than just a career or a job. Essentially that means it is an open and inclusive process rather than an elite sport for the talented few. This is especially true as we get older and wilder! "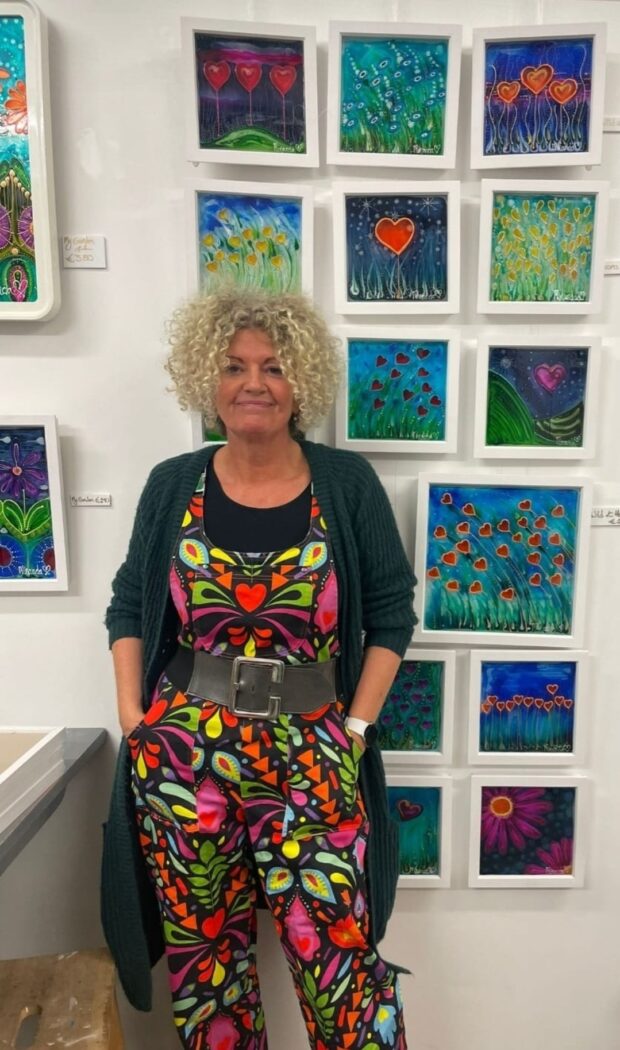 Miranda Corcoran, visual artist
Re-wilding my dreams;
"Back in 2020 I unpacked my paint brushes and unscrewed a bottle of paint for the first time in 14 years. I stopped painting and started feathering my nest very early in my first pregnancy. Two bundles of joy, a new home and a new business later, my time finally returned. Thanks to the C word we thought about how we wanted our business The Art Hand to move forward. I wanted to continue to paint so last October we turned our studio into a small gallery where I work and exhibit my work. I'm flower obsessed. My work is made up of very simple images, almost childlike. I adore the medium I work in. The richness of the colours and the wonderful textures I create. I love to experiment with different mediums and layering. The paint is rather difficult to control so the end result can be something different from what I imagined. Flowers are my main focus. Flower meadows are my dreams. Love hearts are my passion, created with love, joy and happiness."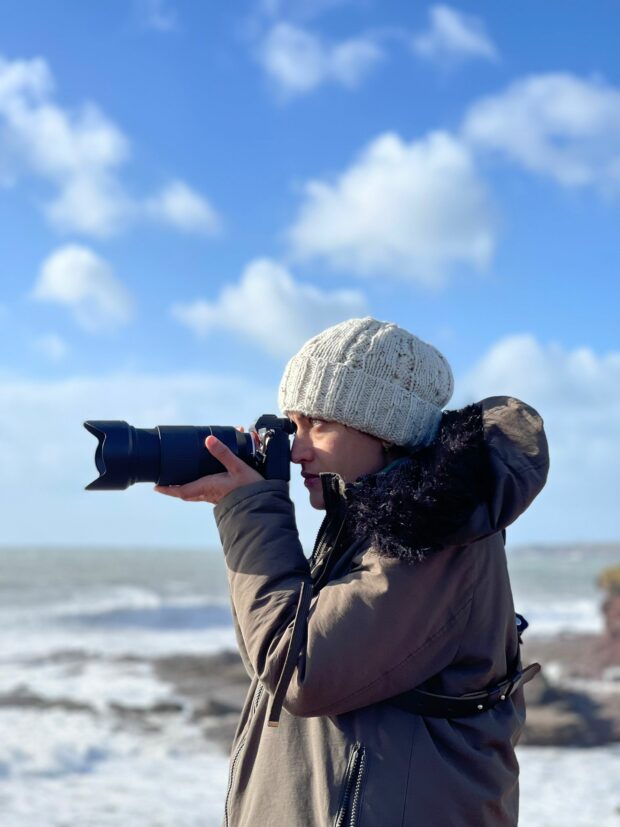 Tasneem Khan Photographer. Diver. Sailor. Adventurer. Zoologist
Look Again : Hidden Layers of Waterscapes
Tasneem is happiest underwater, knee-deep in the mangroves or working under the hull of a boat. She has been designing and teaching immersive, aert-science centred experiential learning for the past 15 years. The currents of her work have taken her from the equator to the arctic circle; the Andaman Sea India, Thailand, Burma, the Maldives, SriLanka, Puget Sound, fresh water swamplands in Sweden, the Norwegian Sea and now immersed in the wild coastal seascape off Ireland. No matter the location, she is most interested in understanding how people relate to, engage with and learn from 'place'. Tasneem curated her practice to facilitate interdisciplinary initiatives in the fields of ecology, conservation, education, and art-science communication. Co founder of EARTH Colab, she is currently living in Dunmore East, and in the process of launching SEA school.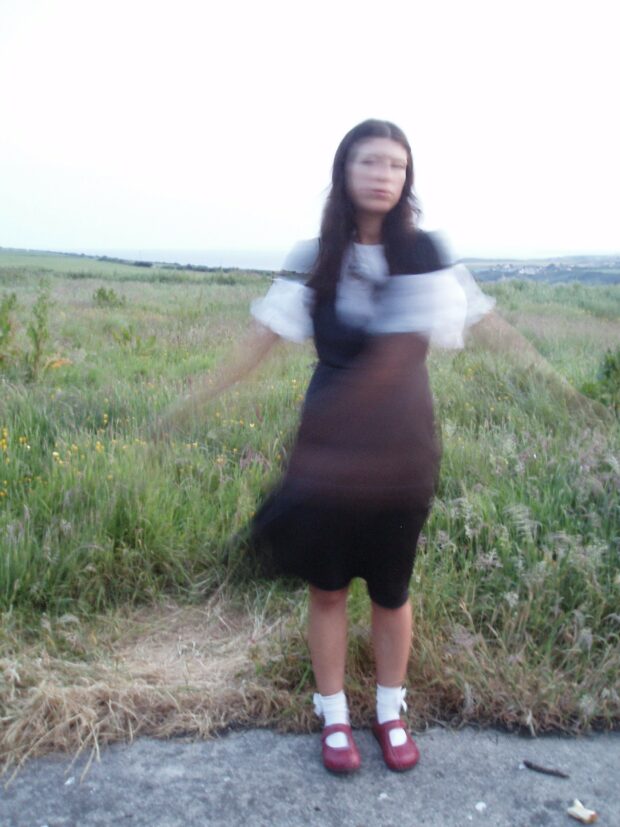 Stella Hennessey, singer/songwriter
Stella is a singer-songwriter from the Copper Coast, Waterford. She is currently experimenting with different sounds and systems to express girlhood and growing pains.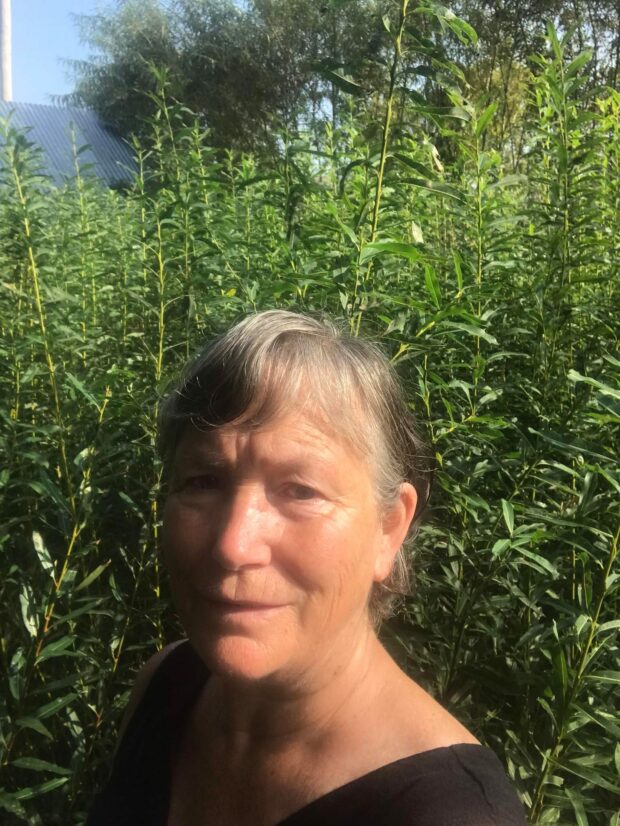 Cathy Hayden, willow artist/crafter
"I started basketmaking in the early 80's when it was considered a dying craft. Plastic had taken over and replaced willow baskets in the home, on the farm, in fishing and so on. It has come back in to fashion since then and, while still utilitarian, has developed creatively and artistically. It is what makes me tick and I am looking forward, albeit nervously, to sharing my craft experience on the night.
I am looking forward to all the other contributions on the night too!"
FOUNDERS OF THE WOMENS CREATIVE CAFE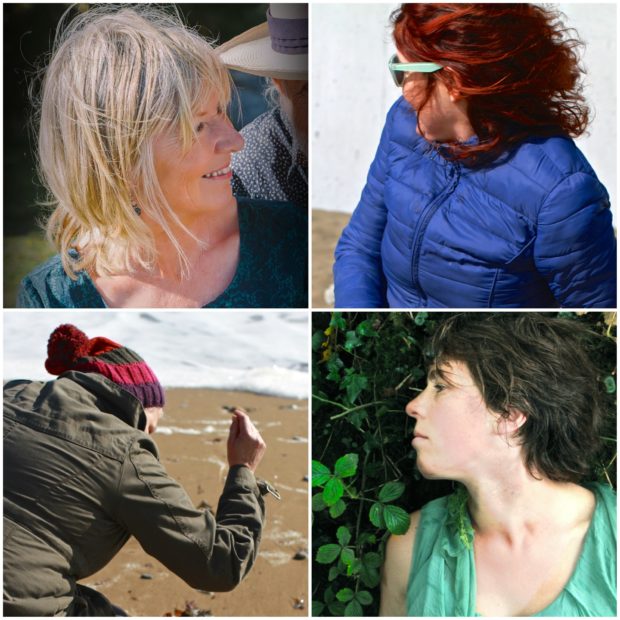 We are a small group of creative women living and working in a rural environment based in County Waterford along the Copper Coast.
We create diverse and inspiring Women's Creative Cafes for women creatives who want to experiment with hearing their own voices, talk about their work, share their projects or to tell their unique creative story.