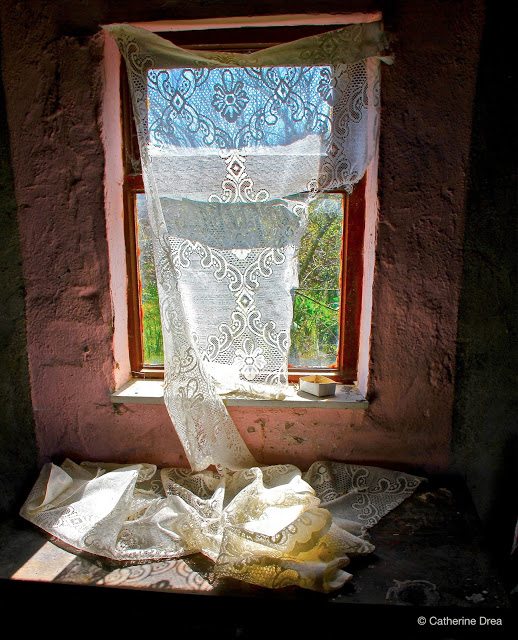 I'm in Micky Macs place. It's been disturbed by party goers, doors open to the yard, a gentle sea breeze blowing through windows, cracked and broken. I once visited him here in his smokey room, walls blackened from the wood fire. I sat on a settle bed in a wollen blanket while he sat on that once pink arm chair with a once yellow cushion.
Even on the beach where he used to sit on summer evenings, he wore the whole kit; a long great coat, a flat cap and black boots. Surrounded by picnics and bathing families he stayed shyly at the edge, chatting to anyone who lingered.
His neighbour, used to wave down cars by standing in the middle of the road. A tousled head would peer through the window, asking mysterious questions;
"Have ye any cigarettes?"
"No we don't smoke"
"Well have ye any kittens?"
They are both gone now as are most of the older generation of my own family. Flimsy remains of curtains and occasional memories all that's left.
A way of life is dying out too. Small farms are being swallowed up and old walls, lanes and streams, absorbed into lawns for horses and feed for herds. No more cattle roaming freely along roadside verges, grazing the long acre.
At the top of the lane is another collapsing cottage. There's an eery emptiness there, a tweed jacket on a hanger in the bedroom, a candle on the kitchen table. The next neighbours, three stoic older siblings, recently lost their fine thatched cottage in a horrible blaze that took all they had. Everything seems vulnerable.
My Dad used to talk about the old days around here and return in his mind to the lanes of Kilkenny where he grew up. He could still feel the hunger experienced through the War. He remembered feet crossing the footpath windows above his grandmother's basement kitchen. The smell of laughing gas from his Father's primitive dental surgery. I have some audio of him singing every word of Run Rabbit Run which he learned as a small boy. Precious mementos.
Today I step into Micky Macs little house, falling down and forlorn without him. My strange ambition to become even more eccentric isn't any wonder, because for a lifetime I have studied the elders. I have loved them, admired their depth, questioned their mysteries, witnessed their fading. And I know that as they disappear I am an elder apprentice, creating my own mementos as I go.
PS To honour Micky Mac a plaque was erected by his friends right on the wall at Garrarus beach where he used to sit.