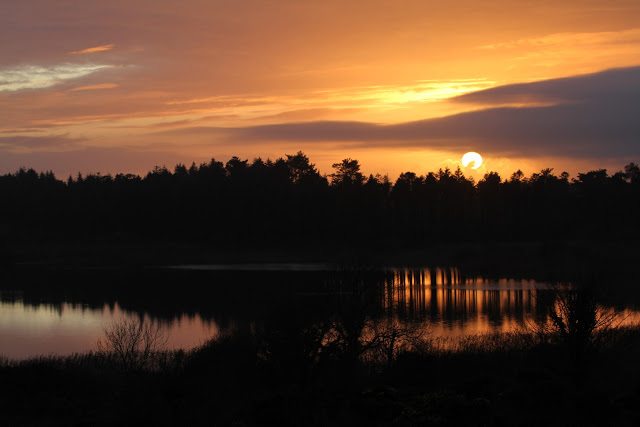 Every day it's the first thing I see from any window in the house. If I am having breakfast it catches my eye, twinkling in the morning light. Later I could be on the phone chatting and I am drawn suddenly to notice the lake darkening and soaking up every shard of light into it's depths. At night when I close the curtains on the day, it's moonlit shadows and reflections form an eery backdrop.
The lake has moods. It shudders and ripples or starts to solidify into a sheet of glass. The events that surround it can be both heavenly and bizarre. Baptisms, horses swimming with boys on their backs, herons swooping over and back, parties, picnics, scout camping trips, lovers trysts, forest fires.
On Autumn evenings like this one, the earth tilts and the setting sun magic descends. The lake and I commune with the sky. She is solid and still. All dressed up with absolutely no where to go. Dignified, ages older and deeper. Her dazzling beauty and golden highlights are on full display.
I am giddy and happy. Up on the roof, elbows resting on the edge, playing at being the flaxen haired lady of the lake. Sometimes I imagine my future old lady self, she is pushing the boat out, trailing her fingers in the icy water and soaking it all in for as long as she can…….
And by the way………..there's room on the boat for a few more giddy old lady pals…..
Also posted today on Vision and Verb where I will now be contributing on a regular basis. Check it out, there's a new post from a diverse group of women bloggers every day.